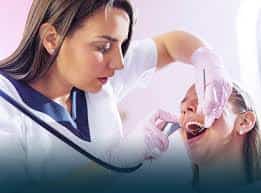 Oral and
maxillofacial surgeon
is a regional specialist surgeon treating the entire craniomaxillofacial complex they are trained in many other techniques other than surgery such as emergency medicine,
general surgery
, and
anesthesiology
. They are the only health care specialists who can administer all levels of sedation, up to
general anesthesia
. Maxillofacial surgeons train in dentistry, surgery, and general medicine.
Osseointegrated dental implants & Maxillofacial implants
Cosmetic surgery of the head & neck
Surgical treatment of head & neck cancer
Craniofacial Facial Deformity & Trauma
Facial skin tumours & reconstruction
Orthodontics & Apicoectomy